Wavewalk 700 (W700) Catamaran Kayak
The most stable kayak that you can launch, drive, paddle and beach anywhere, and easily cartop by yourself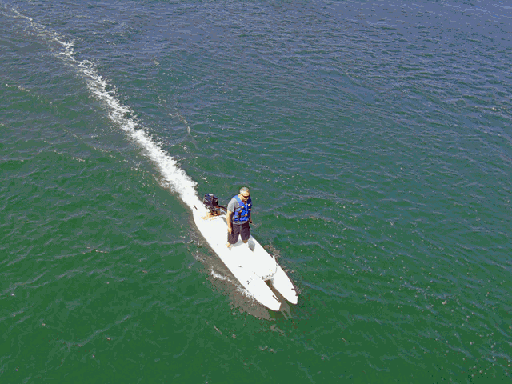 The W700 is a patented catamaran kayak for solo and tandem crews. Thanks to its unique design, the W700 delivers top performance in both paddling and driving modes.
Wavewalk 700 official YouTube video playlist
Super stability, unrivaled by any kayak of any size
The W700 is not as stable as the S4, but its stability is better than that of any kayak of any size, and comparable to that of small fishing boats.
---
Motorizing and Driving
This YouTube video is best viewed in high-quality HD 720p on a wide screen
With a load capacity of 400 lbs, the W700 can serve as a boat tender, and for touring:
The W700 passengers ride its 7'8″ long ergonomic saddle, which is similar to the saddles of jet-skis, all-terrain vehicles (ATV) and snowmobiles, and they can stand up anytime. The average US male weighs 200 lbs, and the average US female weighs 165 lbs, so with its 400 lbs total payload, the W700 has enough room and carrying capacity for a crew of two adult passengers and their gear, or two adult passengers and one child.
---
Summary of W700 Features, Benefits, and Pricing
For the new W720 kayak-skiff version of the W700, see here »
| | |
| --- | --- |
| Price (factory direct order) | $2,000 + shipping (see rates below) |
| TECHNICAL SPECIFICATIONS | |
| Vessel Type | kayak – canoe / with catamaran hull |
| Total Length | 12'10" |
| Total Boat Width (Beam) | 31″ |
| Total Weight Without Accessories | 80 lbs |
| Hull Width | 2 hulls, each 9″ wide |
| Total Cockpit Length | L = 7'6″ |
| Total Cockpit Width | W = 31″ |
| Saddle-Seat Height | 14 3/8″ |
| MDO (Wood Composite) Saddle Bracket Installed | yes, 1 unit |
| Molded-In Polyethylene Saddle Brackets | yes, 7 units |
| Built-In Large-Size Saddle Flotation | yes |
| Transom Motor Mount (TMM) | no. order TMM 700 Motor Mount separately |
| CAPABILITIES | |
| Max Payload (Passengers + Gear + Motor) | 400 lbs |
| Paddling | 2 adult paddlers in full comfort + child |
| Fishing | 2 adult anglers in full comfort + outboard motor |
| Motorizing | calm water, small bays, and estuaries |
| Driving With Electric Trolling Motor | yes, requires a motor mount |
| Driving With 20″ Long (L) Outboard Gas Motor | yes, max 3 hp with TMM 700 motor mount |
| Driving With 15″ Short (S) Outboard Gas Motor | no |
Motor mounts are shipped non-installed. Installation is easy and takes 5 minutes.
For the new W720 kayak-skiff version of the W700, see here »
Discounts
Wavewalk offers a 5% discount on the total order to members and veterans of U.S. Armed Forces, law enforcement officers, and firefighters.
Sales Tax
Wavewalk does not collect sales tax, but you'll be required to pay sales tax when you register your W700 motorized kayak with your local authorities.
Title
Most states do not require issuing a title for a motorized kayak, such as the W700. You'd have to find out what the specific requirements are with your state's authority that's responsible for registering boats.
Are you looking for even more stability, seaworthiness, speed, and load capacity? – Checkout the Wavewalk S4 »
The S4 is the highest standard in small craft:  A 98 lbs twin-hull super skiff that delivers full-size boat stability, speed and seaworthiness, plus great paddling capabilities and hassle-free car-top transportation. Read more »
W700 Shipping Rates
| | | |
| --- | --- | --- |
| REGION | STATES INCLUDED | W700 |
| South Atlantic | FL, GA, SC, NC, VA, WV, DC, MD, DE | $500 |
| Middle Atlantic | PA, NY, NJ | $550 |
| S. New England | CT, RI, MA | $600 |
| N. New England | VT, NH, ME | $650 |
| East South Central | MS, AL, TN, KY | $500 |
| West South Central | TX, LA, OK, AR | $700 |
| East North Central | IL, IN, OH, WI, MI | $650 |
| West North Central | KS, MO, NE, IA, SD, ND, MN | $750 |
| Mountain | AZ, NM, NV, UT, CO, ID, WY, MT | $850 |
| Pacific | WA, OR, CA | $1,000 |
| | |
| --- | --- |
| CANADIAN METROPOLITAN AREA | W700 |
| Montreal | $700 |
| Toronto | $650 |
| Winnipeg | $750 |
| Calgary | $800 |
| Vancouver | $1,000 |
We ship every W700 in a custom heavy-duty cardboard box.
We don't ship to addresses on islands, unless the island is connected to the mainland by a bridge enabling a trailer truck to cross over.
Our actual shipping costs are always higher than what we charge our clients, and we're happy to pay the difference, in most cases. However, in case a client's address is in an extremely remote location, and the shipping cost to it is prohibitive, we reserve the right to charge the client an additional fee.
All overseas clients, including clients in Hawaii and Alaska, take care of shipping their order from the factory or US port to their address. Shipping by UPS Air to addresses in EU countries can cost around the same as shipping to the US West Coast, or more. Please contact us for details.
Factory pickup – Our kayaks and boats are manufactured in Latta, South Carolina. Clients can save the shipping cost by picking up their order at the factory. Please contact us for details.
HOW TO ORDER A W700?
Simply, send us an email to support@wavewalk.com and tell us which model (W700 or W720) you're ordering, and we'll process your order immediately, without waiting for your check to arrive and clear. By the time we receive your check, your order will be close to being completed. In your order please include your full name, the address where you want us to ship this boat, and a telephone number for the carriers to call to set the appointment for the delivery.
Please make your check payable to Wavewalk, Inc.
Our address: Wavewalk, Inc., 115 Terrace Avenue, RI 02915
Call us  774 315-6009
W700 FULL TECHNICAL SPECIFICATIONS
W700 Dimensions
Total Length: 154″  12'10" (391 cm)
Total Width: 31″ (79 cm)
Total Height: 17″
Total Weight: 80 lbs (36 kg) without accessories
Cockpit Length  91″  7'7″  (231 cm)
Hull Dimensions
Hull Width: 9″ (23 cm) x 2 hulls
Hull Height Below The Saddle: 9″ (23 cm)
Hull Tip Length From Cockpit To End: 30″   2'6″ (76 cm)
Saddle-Seat Dimensions
Total Saddle Height: 14.375″ up from the bottom of the hulls (38 cm)
Total Saddle Length: 90″ (228 cm)
Total Saddle Volume: 24 gallons (3 cubic ft / 90 liters) for the closed-wall part
Total Positive Buoyancy: (Net Flotation Capacity) 180 lbs (81 kg)
W700 Carrying Capacity (Payload) and Draft
The average US adult male weighs 200 lbs, and the average US adult female weighs 165 lbs. With its maximal recommended payload of 400 lbs, a W700 tandem kayak can carry two average size passengers, plus a small motor.
Max Recommended Load: 400 lbs (181 kg)
SHALLOW DRAFT IN REAL-WORLD TERMS
The W700 offers its crew to paddle easily, effectively and comfortably in water that's too shallow for an outboard motor's propeller to work in. Poling over long distances is not an option for most people, which is why the W700's full paddling alternative to motorizing makes it the most practical boat for fishing in shallow water, as well as in places where aquatic vegetation and underwater structures limit the use of a motor. The full-fledged paddling option also makes it possible to launch and beach the W700 practically anywhere.
---
W700 Internal Storage
Total internal volume for storage and passengers is extremely large: 20.5 cubic ft (153 gallons, 580 liters). This volume does not include the space inside of the watertight Saddle, which should not be used for storage, since it is designated to serve as flotation. Practically, the W700 offers as much on-board storage space as a medium size Jon boat does. Read more about the W700 on-board storage »
W700 Flotation
The W700 saddle is a large-volume watertight compartment that provides 180 lbs (81 kg) of positive buoyancy, which works as flotation in case of capsize.
W700 Speed
Paddling mode: The W700 is considerably faster when powered by a tandem crew or a strong paddler, and it's pretty fast for an average solo paddler.
Motorized: With a 3 HP outboard motor, the W700 can rarely exceed 10 mph.
Note: Currently, no manufacturer of outboard gas motors offers a 4-cycle 3 HP  model, and the closest are 2.5 HP outboards. As for various electric motors that are presented as being equivalent in power to 3 HP gas outboard motors, they are not, to the best of our understanding. See the "Thrust, Horsepower (HP) and Kilowatts (KW)" section in this article on motorized kayaks »
---
W700 Construction – How It's Built
This product is assembled from two parts molded separately –
The Saddle, which is closed from all directions and watertight. These attributes makes it effective as flotation for the boat.
The Twinhull, which includes the two hulls, the Spray Deflector that goes around the cockpit, and a base for the Saddle part that's dubbed the Central Platform.
The Twinhull is protected by seven molded-in plastic brackets integrated with the Saddle, plus one MDO (wood and polymer resin composite) heavy duty bracket installed behind the saddle, in a special compartment. This 3D animation video shows how the W700's Twinhull and Saddle parts are assembled:
The saddle part is watertight, and serves as flotation. It features seven integrated (molded-in) plastic brackets (see above video) which keep the boat rigid.
Heavy Duty (HD) wooden saddle bracket at the saddle's rear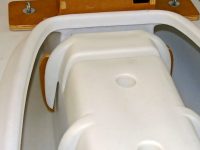 The above video doesn't show the MDO (composite of wood and polymer resin) bracket installed behind the saddle, in a special compartment.
This additional bracket reinforces the boat's structure in the area where the load created by the combined weight of a heavy passenger and a heavy outboard motor requires it.
W700 Materials:

Hull: Rotationally Molded High Density Polyethylene (HDPE)
Saddle: Rotationally Molded High Density Polyethylene (HDPE)
Heavy Duty (HD) Saddle Bracket: Medium Density Overlay (MDO).
Thanks to the extra durability and resilience of Polyethylene, it is the polymer resin of choice for molding nearly all modern kayaks.
Our boats and kayaks are made from 100% recyclable materials

W700 Country of Origin:

Our kayaks, boats, paddles and accessories are 100% Made in USA
W700 Color for 2023: Gator Green
Wavewalk 700 Paddling Kit
Paddling Kit for Kayaking and Canoeing »  Price: $110
This kit includes a 9 ft long, 2-piece dual blade 'Kayaking' paddle and a pair of T-grip handles.
The two halves of the XL paddle can be instantly outfitted with handles, and transformed into 2 canoe paddles.
This paddling kit also complements driving the W700, since canoe paddles take less room on board than longer kayak paddles do, and you always need a paddle on board a small boat, to help with launching and beaching, going in shallow water, and just in case something goes wrong with the motor.
We do not ship this paddling kit separately from the kayak itself.
---
W700 Transportation and Carrying
Car topping a W700 is easy and quick, even for one person –
Carrying a W700 can be as easy as dragging it on the ground:
Note: We ship the W700 without Nylon eyelets (tie-downs), flotation tubes,  and spray shield seen in this video. The motor mount is optional.
---
Wavewalk 700 – Users and Applications
Big Guys. These users can enjoy extreme stability, a roomy cockpit, and a high saddle seat that's considerably more comfortable and ergonomic than any other kayak seat.  Read a big guy's review »
Tandem Paddlers (Touring). Typically, two paddlers looking to paddle together in a stable, comfortable, dry, and easy to paddle craft that they could car-top without problems. The W700 is a better solution compared to both canoes and regular tandem kayaks. With two average size paddlers on board, the W700 can carry some gear on board as well, or a small child, or a dog.
Tandem Kayak Anglers. Typically, two guys who fish out of a large size kayak or canoe. Recommended models: W700 or S4, depending on propulsion preference (paddle or motor), and type of water (e.g. flat water, bays, offshore). The W700 is a perfect tandem fishing kayak that works well with a small, lightweight outboard motor up to 3 HP, while the S4 is a high-performance motorboat that works pretty well as a tandem kayak too.
Solo Hunters. There is enough room on board a W700 for a large size hunter, plus plenty of hunting gear including dozens of decoys (see storage video), a motor, and a dog or two.
Tandem Hunters. Typically, duck hunters and other waterfowl hunters, and their gear. Recommended models: W700, S4. The W700 works perfectly for paddling, and the S4 works perfectly for motorizing, including with a surface drive (mud motor).
Families. The W700 is suitable for a couple paddling on flat water together with two young children, and it can be outfitted with an outboard gas motor up the 3 HP.
Boaters. The 700 works well as a tender (service boat) for a big boat or a yacht. The S4 works better in this capacity thanks to its bigger payload capability and seaworthiness, and the fact that you can tow it behind the boat, which is not advised for the W700.
Solo Kayak Anglers. The W700 is lighter and much more stable than any high-end SOT or sit-in fishing kayak out there. The S4 has a bigger load capacity, and it's more seaworthy than all kayaks and most microskiffs. Watch movies »
Flats Fishermen. Typically, these anglers fish out of a Jon boat, a microskiff or a skiff, which is a name given to a broad range of small, shallow-draft, stable motorboats that are too heavy to car-top, and can't be paddled effectively. The W700 is easy to car top even for one person, and unrivaled as a mobile and stable paddle craft.  More microskiff info »
Offshore Fishermen. The S4 is considerably more seaworthy than the W700.
Offshore Technical Crews. People working on offshore scientific, engineering and maintenance projects that typically involve the use of Rigid Hull Inflatable Boats (RHIB) or RIB (Rigid-Inflatable Boat).  Recommended model: S4.
Catamaran-Dinghy Sailors. For a 1-2 crew. Recommended model: S4.
Speed, Fun, and Adventure Seekers. For a 1-2 crew. Recommended model: Motorized S4.
---
W700 or S4?
W700 advantages over the S4:  Solo kayaking, solo canoeing, light tandem kayaking, light tandem canoeing, portability.
S4 advantages over the W700: Driving, ocean, tandem motorizing, tandem fishing, stability, offshore trips, load capacity (big guys, additional passengers, heavy gear, powerful motor).
Shallow water – The S4 drafts less than the W700, and it features a skiff stand up casting platform, but the W700 paddles better.
Offshore –  The S4 is much more seaworthy than the W700.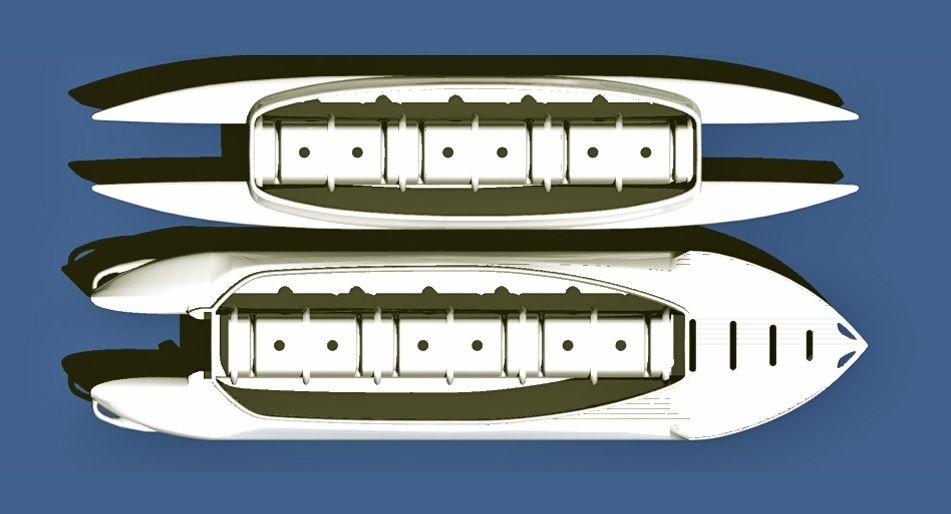 Do you feel unsure? Please don't hesitate to call or email us. We're always happy to answer questions about our products and the best ways to use them, and offer more details about performance, outfitting, etc.
More reading about the W700
For the new W720 kayak-skiff version of the W700, see here »