Wavewalk's Cartop Cat Microskiff
The Most Stable, Comfortable, Seaworthy and Versatile Portable Microskiff
Price: $3,000 + a shipping fee, depending on location. See more info below.

1. S4 Microskiff YouTube video playlist
2. ABOUT THE S4 MICROSKIFF
The S4 is a catamaran (twin hull), super-stable, high performance, extremely versatile and seaworthy cartop microskiff that's easy and fun to drive at high speed, both on flat water and in rough water.
The S4 microskiff also works perfectly for kayak fishing, with its user or crew paddling it.
Like all other Wavewalk products, this boat is 100% Made in USA.
The S4 delivers the highest performance in the field of small boats and ultralight micro skiffs, even before you've reached the water, starting from the fact that at 100 lbs it doesn't require a trailer for transportation, and it's easily portable even on rough terrain.
Its patented twin-hull (catamaran) design delivers more stability than any boat of comparable size out there, including wider and heavier ones.  This allows for driving in fast currents, in choppy water, and in the ocean.
The S4's extra large cockpit (8′ long x 38″ wide) offers ample room for two anglers or hunters and their gear, or for up to three adult passengers – a total of up to 600 lbs.
The S4 features a long saddle seat similar to the saddle of other high performance vehicles (e.g. Jet-ski, ATV), which offers maximal balancing capability and full comfort in choppy water, and long trips.
The S4 features a skiff's stand up casting platform at its bow.
The S4 cockpit's sloped sides enable its passengers to paddle with more ease and better control than canoes and tandem fishing kayaks offer.
The S4 has an extremely shallow draft, and this fact in combination with its portability, load capacity and high performance as a paddle craft makes it the most practical solution for shallow water fishing.
3. FEATURES
Structural Overview
Click image to enlarge
Dimensions
Length: 13 ft (396 cm)
Beam (Total Width): 38″ (97 cm)
Cockpit Length: 95″ (241 cm)
Cockpit Height: 17″ (43 cm)
Saddle Height: 15″ (38 cm)
Width of a single hull: 13″ (33 cm)
Total Weight: 98 lbs  (44.5 kg)
Structure Overview and Features
Patented twin-hull Wavewalk® catamaran hulls
Personal watercraft (a.k.a. 'jet-ski') style 7'6″ long Saddle seat featuring a series of seven molded-in brackets, and six vertical molded-in reinforcement columns
Integrated Skiff Style Stand-Up Casting Platform at the bow, with anti-skid surface. Read more »
The Cockpit's Slanted Sides allow passengers to paddle with more ease and comfort than paddling a canoe or a common kayak of such width.
Preparation for a vertical mounting plate for outboard motor at the stern
Each S4 ships with a heavy duty mounting plate for an outboard motor, standard

Click to enlarge

Two Medium Density Overlay (MDO) 0.75″ thick Saddle Brackets – One bracket at each end of the saddle.
The bracket in the front provides additional support for the stand up casting platform, and the rear bracket serves as extra support for a motor mount.
Each bracket is attached to the vertical wall that's adjacent to it by means of two rivets. The rivets are sealed with waterproof adhesive.
Built-In Flotation – The S4 Saddle is a watertight compartment that offers 180 lbs of positive buoyancy.
Two pairs of integrated, molded-in heavy duty Carry Handles – A pair at the bow, and a pair at the stern.
Material – The S4 is roto-molded  from High Density Polyethylene (HDPE), for extra durability and resilience. Polyethylene is the polymer resin from which nearly all modern kayaks are made.
Average Wall Thickness: 0.150″ (3.8 mm)
Colors (2024): White, Gator (drab) Green
4. BENEFITS
Best Stability in Small Boats
Initial (Primary) Stability: The S4 is more stable than any kayak, canoe, Jon boat and micro skiff of similar size. A 200 lbs person standing with both feet in one of the S4 hulls will make it draft barely 1″ lower than it would if that person stood with one foot in each hull – hardly a noticeable difference.
Secondary Stability and Balancing Capability: The unique combination of a saddle seat (such as ATVs, PWC and snowmobiles feature) with high-volume twin hulls enables the passengers to balance themselves easily, intuitively, and more effectively than in any other boat, including kayaks, canoes, Jon boats, dinghies, skiffs, and personal watercraft (PWC / 'jet-ski').
The S4 is unrivaled in Stability terms.
Best Boat Ergonomics
The 15″ high saddle featuring in the S4 is similar to the saddle featuring in other high performance land and water vehicles, such as All-Terrain Vehicles (ATV), Personal Watercraft (PWC / 'jet-ski'), and Snowmobiles, as well as certain Rigid-Inflatable Boats (RIB) designed for high speed motorizing offshore.
Passengers riding this saddle can travel for long hours, including in choppy water, without suffering from back pain or fatigue. This is due to the fact that while seated in the Riding position, with a leg on each side of the saddle, the passenger's legs support them in the most effective way, and no horizontal pressure from a backrest is being applied on their lower back.
In addition, the S4 passengers can stand up any time they want, and keep driving and paddling while standing up. They can even lay down with their back on the saddle, and relax. Switching between positions assures that no extreme fatigue or tension would build up in any part of the passenger's body.
Easy Transportation and Full Portability
The S4 weighs 100 lbs without a motor attached to it, and one person can cartop it. Therefore, it does not require a trailer for transportation.
Total Mobility and Increased Range of Travel
The S4 can be dragged or carried over rough terrain, and launched practically anywhere, whether it's a rocky beach, shallow water, or other difficult spots that are not accessible to other boats.
The S4 can go almost anywhere, thanks to a number of special features –
No other boat offers such a combination of shallow draft and total multi-modal propulsion, namely the ability to keep going in an effective paddling and poling mode even if the water is too shallow and/or infested with weeds to allow for motorizing.
No other boat, big or small, works so well both on flat water and in the ocean chop. The S4 is both the most stable and seaworthy boat for its size.
Large Size Onboard Storage
The Wavewalk S4's twin hulls offer 260 gallons (34.7 cubic feet) of onboard storage. This huge volume is comparable to the storage space offered by a 16 ft Jon-boat, or a full size skiff.
Motor
Our Recommendations –
Size: 20″ Long (L) propeller shaft outboard gas motor. Other shaft lengths don't work with the S4
Power: 3.5 HP to 6 HP (2.6 KW to 4.5 KW). Avoid using bigger motors
Propeller pitch for a 6 HP motor: First choice: 9″ pitch and second choice: 8″ pitch
Propeller pitch for other motors: Always choose the biggest pitch available
Read more: What Motor For My S4 Microskiff? »
Shallow Draft
Empty, no motor: less than 1″ draft
Loaded with 200 lbs: less than 3″ draft
Loaded with 400 lbs: less than 5″ draft
5. ACCESSORIES
The S4 Comes With a Heavy Duty (HD) Mounting Plate For a Motor, Standard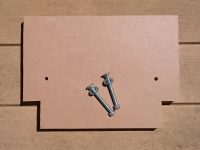 Mounting Plate Tech Specs
Thickness: 1.5″
Material: Medium Density Overlay (MDO) coated with urethane.
Parts: The S4 mounting plate comes with a pair of 5/16″, 3.5″ long carriage bolts, and self-locking nuts.
Compatible with outboard motors up to 6 HP and a 20″ Long (L) propeller shaft.
Installing The S4 Mounting Plate

The S4 Mounting Plate is made using a Computer Numerical Control (CNC) system, and it is designed to fit tightly in the motor mount, in order to minimize vibrations and noise.
Installing it takes a few minutes –
Insert it into the molded-in transom motor mount section, and drive it down all the way. Carefully drill two 5/16″ diameter holes through the existing two 5/16″ holes in it, and secure it firmly in place with the two carriage bolts and self-locking nuts provided.
If needed, use a rubber mallet or a hammer with a piece of timber and/or lubricant to drive it down. Sanding its edges lightly is fine, if you feel it's necessary.
Paddling Kit for Kayaking and Canoeing
We ship every S4 with a Paddling Kit, standard.

This kit includes a 9 ft long, 2-piece dual blade ('Kayak') paddle and a pair of T-grip handles. The two halves of the XL paddle can be instantly outfitted with handles, and transformed into 2 canoe paddles.
More info »
6. Price and Ordering Info
Price: $3,000 + shipping fee, depending on location
$500 rebate on factory pickup in Latta, South Carolina
Shipping to remote addresses may require a higher fee than the basic fee for shipping to a metropolitan area shown below.
We ship the S4 with a mounting plate for a motor, and a paddling kit
| | | |
| --- | --- | --- |
| REGION | STATES | |
| Southeast | FL, GA, SC, NC, VA, WV, DC, MD, DE | $200 |
| Middle Atlantic | PA, NYC, NJ | $200 |
| S. New England | CT, RI, MA | $300 |
| N. New England, UPNY | VT, NH, ME, UPNY | $400 |
| E. South Central | MS, AL, TN, KY | $300 |
| W. South Central | TX, LA, OK, AR | $400 |
| E. North Central | IL, IN, OH, WI, MI | $400 |
| W. North Central | KS, MO, NE, IA, SD, ND, MN, MI UP | $500 |
| Mountain | AZ, NM, NV, UT, CO, ID, WY, MT | $700 |
| Pacific | WA, OR, CA | $800 |
| | |
| --- | --- |
| CANADIAN METRO AREA | USD |
| Montreal | $500 |
| Toronto | $400 |
| Winnipeg | $500 |
| Calgary | $700 |
| Vancouver | $800 |
Factory Pickup Rebate – Our boats are manufactured in Latta, South Carolina. Clients who pick up their order at the factory, or have their shipping agent pick it up for them there, receive a $500 rebate.
Please contact us for details.
We ship every S4 in a custom heavy-duty cardboard box.
Shipping includes insurance and call before delivery service.
We don't ship to addresses on islands, unless the island is connected to the mainland by a bridge enabling a trailer truck to cross over.
Our actual shipping costs are much higher than the fee that we charge our clients. In case a client's address is in an extremely remote location, and the shipping cost to it is prohibitive, we reserve the right to charge the client a higher shipping fee.
All overseas clients, including clients in Hawaii and Alaska, take care of shipping their order from the factory to their address. We've found that UPS Air Freight offers competitive rates for shipping to addresses in Europe and elsewhere. Please contact us for details.
Discounts
Wavewalk offers a 5% discount on the total order to members and veterans of U.S. Armed Forces, law enforcement officers, and firefighters.
Sales Tax
Wavewalk does not collect sales tax, but you'll be required to pay sales tax when you register your S4 multihull boat with your local authorities.
Title
Most states require issuing a title for a boat, and the S4 is a multihull boat. You'd have to find out what the specific requirements are with your state's authority that's responsible for registering boats.
Ordering info
To order your S4 simply send us an email to support@wavewalk.com
In your order, please include your name, address, the color and accessories you chose for your S4, and the best phone number for the carrier to call you before delivery.
If you have any question, please email us, or call us at 774 315-6009
Payment
Please make your check payable to Wavewalk, Inc., and mail it to –
Wavewalk, Inc.
115 Terrace Avenue
Riverside, RI 02915
DEALERS
Checkout our list of local Dealers and Demo Agents »
W720 or S4?
W720 advantages over the S4:  Solo kayaking, solo canoeing, tandem kayaking, tandem canoeing, portability.
S4 advantages over the W720: Motorizing, tandem motorizing, tandem fishing, stability, offshore trips, load capacity (big guys, additional passengers, heavy gear).
Shallow water – The S4 drafts less than the W720, and it features a skiff stand up casting platform, but the W720 paddles better.
Offshore –  The S4 is more seaworthy than the W720.
Do you feel unsure? Please don't hesitate to call or email us. We're always happy to answer questions about our products and the best ways to use them, and offer more details about performance, outfitting, etc.