Updated 10/23/2022
The term Transportation is commonly used to describe carrying the kayak or portable boat over long distances, with a motor vehicle, while Carrying usually means moving the boat manually, over a short distance, typically from the owner's vehicle to the water, and back.
Transporting a kayak can be done on top of a vehicle (cartop), inside it, on a special platform (for pickup trucks), or on top of a trailer.
Carrying a kayak can be done by hand (Portaging) or with a lightweight wheel cart (Dolley).
Kayaks are lightweight, and considered cartop boats. This is generally true, except for a small number of humongous kayaks (typically pedal driven fishing kayaks) that weigh over 120 lbs. The Wavewalk S4 kayak weighs 100 lbs, and one person can cartop it.
Portable boats
Except for a few ultralight portable boats, boats are heavy, and cannot be car topped. Size and weight, namely the same factors that prevent boat owners from transporting them on top of their vehicles, also prevent them from carrying them.
The S4, Wavewalk's biggest and heaviest microskiff, weighs just 100 lbs.
A portable 6 HP 4-Cycle outboard motor weighs up to 60 lbs, and mounting it on the S4 is quick and easy.
The Wavewalk S4 is a cartop boat, and you can transport it on top of your vehicle, even if it's an SUV, a minivan, or a van, while transporting the motor inside the vehicle.
If you transport your S4 on the bed of your pickup truck, you can leave the motor attached to it if you use a T-extension that hooks into a trailer hitch.
This movie shows how one person cart tops an S4 boat in 30 seconds:
The ability to cartop a boat frees its owner from the need to park a boat trailer on their driveway, and from launching and beaching in special places, namely designated boat ramps. You can launch, carry and beach your S4 practically anywhere:
This photo gallery shows how S4 kayak-skiff owners transport in on top of their vehicle, and inside it –
Using a T-extension for a pickup truck bed
If you outfit your SUV, minivan or pickup truck with a T-extension, you can transport your S4 with the motor attached to it. In such case, you'd be advised to secure the propeller shaft with bungee cords or a special accessory, to prevent excessive shocks to the boat's motor mount while your vehicle rolls over bumpy roads.
Transporting on a trailer
The Wavewalk S4 is a seaworthy boat that allows you to fish in the ocean, and since it is lighter and narrower than any fishing boat, it fits any kayak trailer, boat trailer, and utility trailer.
Transporting the S4 on a trailer can make loading and attaching it easier than if you cartop it. But the main advantage of a trailer over car-topping is that you can leave the motor attached to your S4.
The big disadvantage of transportation by trailer is that you have to wait for others to clear the boat ramp in order to access it with your vehicle.
A trailer can also takes the space of a vehicle in your garage, or on your driveway, and it requires registration.
Compact Trailers
Lightweight trailers that can be used for transporting the S4 sell for as little as $400. For example, Harbor Freight's 40.5″ wide and 48″ long Haul-Master utility trailer that can be easily extended by a few feet using 2×4 timber and/or 2×2 aluminum tubing (see picture below). Similar products from Ironton and Northern Tools sell online at a similar price. A trailer this size weighs 150 lbs, and its footprint on your driveway is smaller than that of a full size trailer.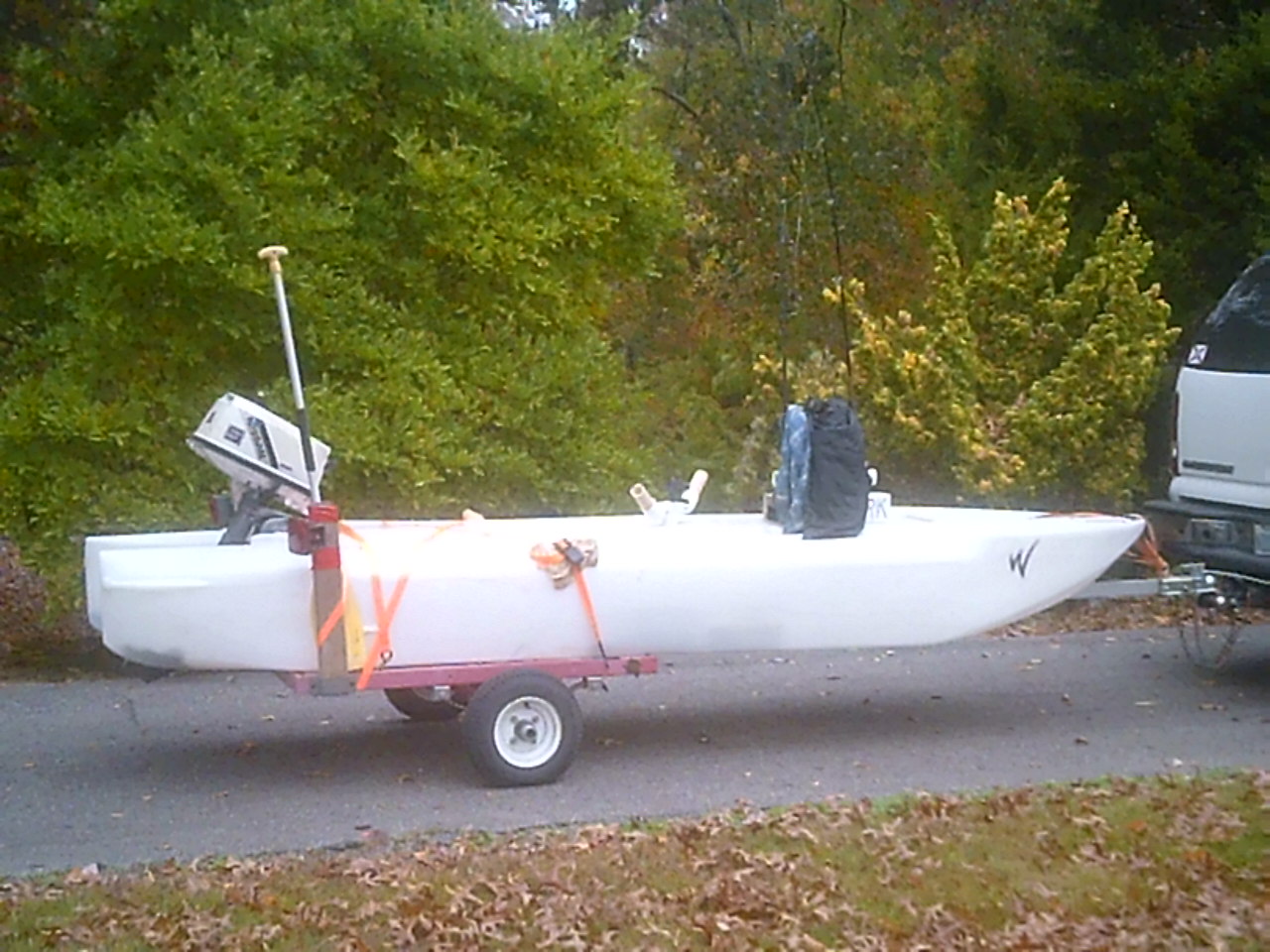 Photo: Captain Larry Jarboe, Wavewalk Key Largo
Other inexpensive trailers require no extension –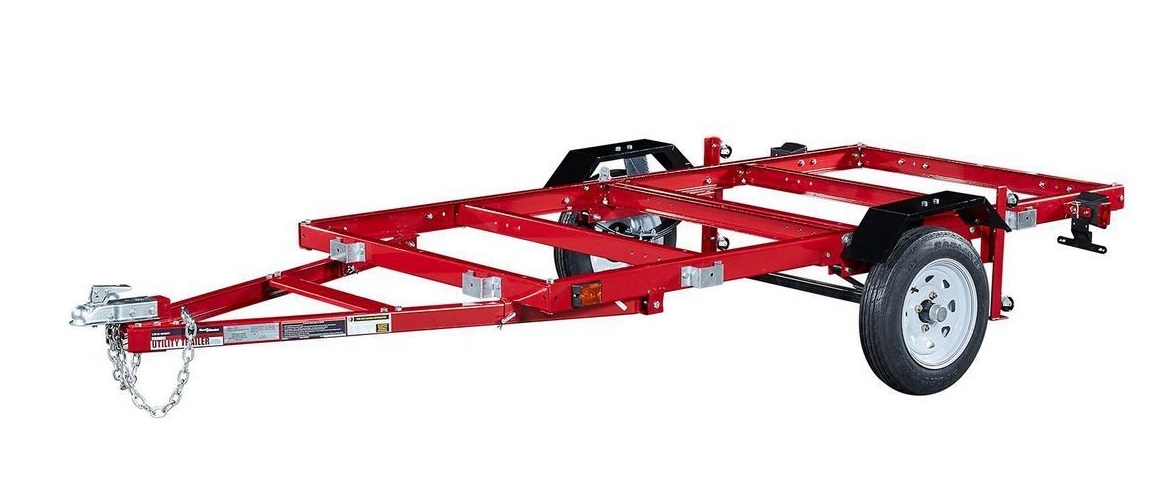 Summary
Different modes of transportation come with different advantages and disadvantages, and S$ owners can switch between them according to their needs and possibilities. For example, if boat ramps in your area tend to be overcrowded during the boating season you'd better cartop your S4, or transport it inside your vehicle, if possible. However, if you're going on a camping trip, and both your roof rack and the inside of your vehicle are packed with gear, you may want to transport your S4 on a trailer.