Wavewalk, Inc Background and Timeline
Wavewalk, Inc. was founded in 2001, in Massachusetts, by Yoav Rosen.
The company develops and manufactures small watercraft and related accessories.

In 2004, the company began selling its products factory direct, mainly in the US and Canada, and since then our products have been serving paddlers, anglers, hunters, divers, photographers, boat owners, scientists and engineering companies worldwide.
In 2005, the US Patent and Trademark Office (USPTO) granted Wavewalk utility patent number 6871608 for our invention enabling the creation of a novel class of small, lightweight, multihull (catamaran) kayaks and boats.
In 2018, we moved to Rhode Island, a.k.a. The Ocean State.
About Wavewalk kayaks and microskiffs
Wavewalk introduced improvements in paddling, fishing and motorizing by offering  the world's most stable product in the category of personal, small-size boats. Our patented kayaks are stabler than the biggest and widest fishing kayaks, as well as canoes and kayaks equipped for outriggers (external stabilizers).
Wavewalk succeeded in completely eliminating back pain, leg numbness and other physical discomfort commonly experienced by people who paddle sit-in and sit-on-top (SOT) kayaks, and fish from them.
When compared to canoes and other kayaks, Wavewalk® twin-hull kayaks and multihull boats offer enhanced speed, control and tracking capabilities, as well as unrivaled mobility.
The Wavewalk® design offers by far more storage space than any other kayak does, as well as better protection from the elements.
Some of our customers motorize their Wavewalk® twin-hull boats and kayaks, thus effectively turning them into personal, car-top multihull motorboats that are comfortable and stable, and offer sufficient storage for touring, as well as for long camping and fishing trips in fresh water and in the ocean.
Products – OVERVIEW and timeline
Our first kayak series was the 300 (2004-2010). It included the original version (2004-2007), and the redesigned version (2007-2008). 2004 was also the year in which we introduced our extra-long paddles, which we haven't changed at all since then.
We introduced the 500 series in 2009, and it became a classic almost overnight. Anglers who use a W500 consider it to be the world's best fishing kayak, mostly because it is back pain free, and much stabler than all other fishing kayaks, regardless of their size. We suspended the production of the W500 in 2020, mainly because our clients preferred the w700 and S4.
In August of 2015, we introduced the 700 series that offers a level of stability that allows for two anglers to fish out of it as well as motorize easily and effectively. Needless to say that the 700 is unsurpassed as a paddle craft, both for tandem and solo applications, in both kayaking and canoeing styles.
May 2017 – We launched our new Series 4 (S4) of ultralight multihull boats – skiffs that work great as paddle craft, ans since then it has broken the world records for stability, seaworthiness and speed for vessels its size.
July 2018 – Wavewalk relocated from Massachusetts to a beachfront location in Rhode Island, a.k.a. the Ocean State.
2020 –  Wavewalk suspended the production of the W500, and we recommend to clients who are interested in it to order the more accomplished W700 instead.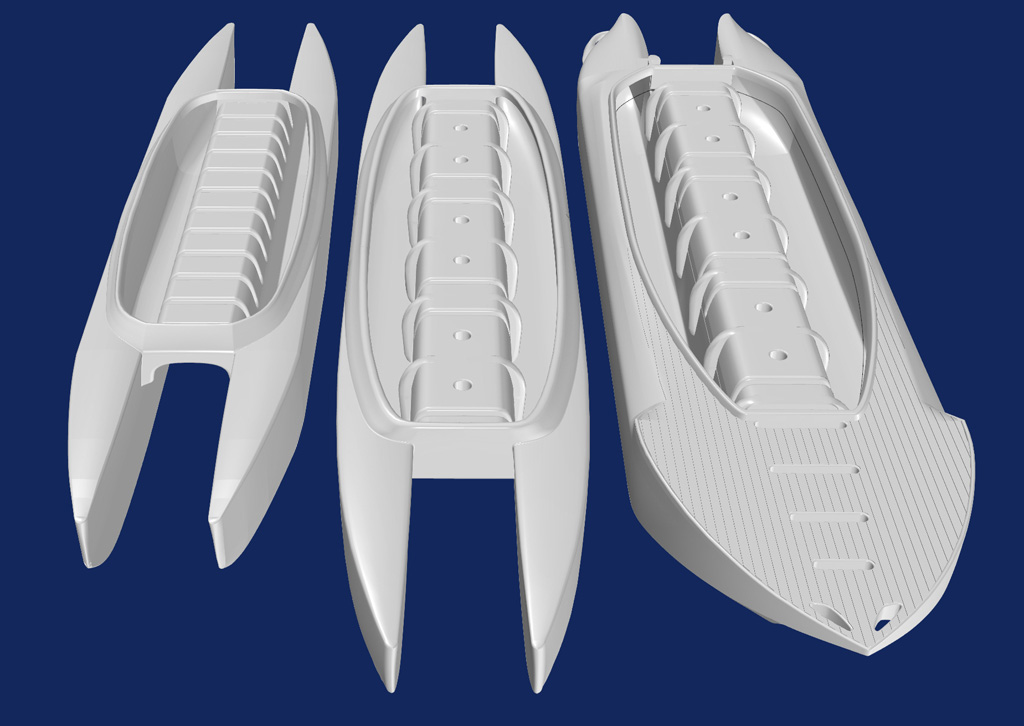 Our Commitment
Our company is dedicated to creating the world's best twinhull kayaks for paddling and fishing, and the world's best portable multihull boats. We support our clients in a broad range of applications and regions.
About our website
In order to provide our customers with as much information as they need about our Wavewalk® twin-hulled boats and kayaks, we created a website that features dozens of technical articles, dozens of demo movies, hundreds of full-featured reviews contributed by customers, hundreds of trip reports, and more. We've made great efforts to make this website easier to navigate, and for this reason we've trimmed over 1,200 pages from it.
We're always happy to provide answers to your questions by phone, text, and email, or through your comments on this blog.
Special thanks to a large group of people who've contributed stories, pictures, videos, rigging ideas, fishing tips, criticism, encouragement, and a lot of talent, experience and good will since we started experimenting in new watercraft in 2001, and came out with our first commercial product in 2004.
CONTACT US
Call or text us: 774 315-6009
Email us: support@wavewalk.com »
Our address
WAVEWALK, INC.
115 Terrace Avenue
Riverside, RI 02915
United States
Contact: Yoav Rosen
---
Address for factory pickups only

Wavewalk c/o Diversified Plastics Inc. (DPI)
1309 Highway 917 West
Latta, SC 29565
Please call in advance to schedule pickup