Wavewalk's patented catamaran S4 cartop microskiff and W720 kayak-skiff are unrivaled in the stability, comfort, seaworthiness, performance, versatility and value they provide:
1. S4 Microskiff
Portable & Seaworthy Catamaran Microskiff

S4 Microskiff Key Features and Benefits
Vessel Type: Patented, Multihull Boat (Catamaran) delivers utmost stability
L = 13 ft, W = 38″, H = 17″. Weight = 98 lbs (net).
Personal watercraft (PWC) saddle type seat for best balance and zero back pain.
Payload: Up to 600 lbs. Capacity: Up to 3 full-size adult passengers.
Fits outboard motor up to 6 HP.
Very shallow draft.
Most seaworthy in rough water.
Internal, built-in flotation.
Fish, paddle, and drive standing, and push-pole too, if you want.
Skiff's front deck for stand up fishing. Fishing standing for all crew, up to three anglers.
Stabler than any kayak. Stabler than bigger boats, skiffs, and Jon boats.
One person can car-top.
Zero maintenance.
Spacious and comfortable cockpit with high free board to keep you and your gear dry.
260 gallons (34.7 cubic feet) of onboard storage space, comparable to a 16 ft Jon boat or skiff
17 mph top speed with powerful outboard motor.
Roto-molded High Density Polyethylene (HDPE) hull, for resilience and durability.
Colors (2024): White, Gator Green (Khaki)
The S4 comes with a mounting plate for an outboard motor up to 6 HP
S4 Price: $3,000 + shipping fee. Includes: mounting plate and paddling kit
---
2. W720 Catamaran Kayak Skiff

W720 Key Features and Benefits
L = 12'10", W = 31″, H = 17″, Weight = 85 lbs (with motor mount).
Patented twin-hull (catamaran) offers utmost stability for its size.
Personal watercraft (PWC) saddle seat for optimal balancing capability, true comfort, and zero back pain.
Payload: Up to 400 lbs.
Compatible with an outboard gas motor up to 3 HP.
Internal, built-in flotation.
Paddle seated and standing, and push-pole if you want.
Stabler than any other kayak. Less stable than the S4.
Two anglers can fish standing in it.
Shallow draft.
Maintenance free.
Easy for one person to cartop.
Dry, spacious and comfortable cockpit.
Very large on board storage, suitable for long touring, camping and hunting expeditions.
Roto-molded High Density Polyethylene (HDPE) built, for resilience and durability.
Color (2024): Gator Green, White
W720 Price: $2,400 + shipping fee. The W720 comes with a mounting plate
Do you have any questions for us about the W720?


Call / text:

774 315-6009
Email: support@wavewalk.com
Unrivaled Stability and Comfort, No Back Pain, and No Leg Numbness
Enjoy the natural, ergonomic and super-stable Riding Position. Wavewalk microskiffs feature a saddle seat that's similar to the saddle of a personal watercraft (PWC) a.k.a. jet ski. When your legs straddle the Wavewalk's high saddle seat, they support your balancing, control, paddling and fishing efforts, and you can switch anytime between several natural ergonomic positions.
Roomiest for passengers, with XL onboard storage
Wavewalk's kayaks and cartop microskiffs are the world's roomiest, and they offer unmatched on-board storage .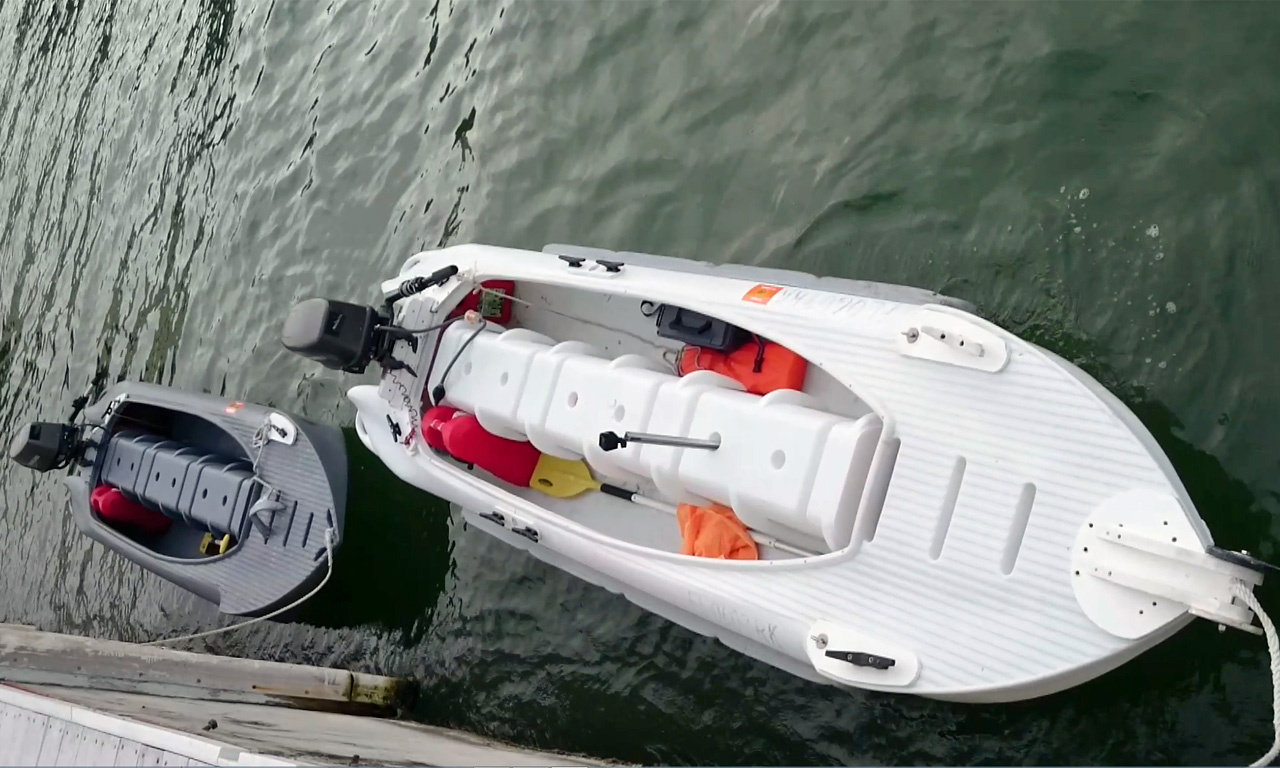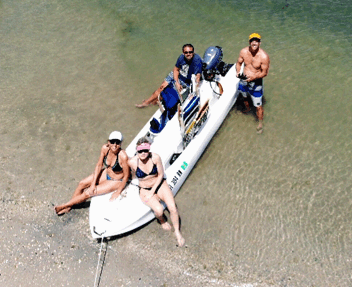 The Wavewalk's unique high saddle provides sitting comfort for everyone, including toddlers, adults, big and heavy people, people with back problems and disabilities, and elderly people.
More on kayak fishing trips with children »
More about onboard storage »
Customer Reviews
Interested to read client testimonials about our Wavewalk® kayaks, micro skiffs and cartop boats?
Our website offers hundreds of full-featured customer reviews that include the author's full name and state, and pictures they contributed. Some reviews even have videos in them.
Additional W720 Information
The world's most stable fishing kayaks
The back pain free kayaks, offering you the riding position and various additional positions, so you can avoid leg and back pain, fatigue, and getting wet.
The easiest kayaks to paddle. Our fishing kayaks track better in strong wind, and require no rudder, ever.
The only kayaks offering real-world, true stand-up paddling and fishing in safety and confidence, plus a high saddle to help you regain your balance in case you get destabilized (stuff happens!)
The world's most mobile kayaks let you to launch, paddle, fish and beach where other kayaks won't go.
The roomiest kayaks, offering many times more storage space than any other kayak, and room for a second and even third adult  passenger on board, or several children.
The driest and most versatile kayaks out there, for any weather and water condition, including cold water, shallow water, and offshore in the chop.
The most effective and easiest kayaks to motorize, and the only ones that work as a true personal, portable, cartop, high-performance and seaworthy micro skiff.
ORDERING INFO
Just email us to support@wavewalk.com or call/text 774 315-6009
Let us know what type of boat you're interested in (S4 or W720), what color, your name, address, and phone number, and if you have any questions.
We'll reply immediately, and we'll send your order to production as soon as all the details are clear.
We ship every boat in a custom heavy duty cardboard box, and the carrier will call you to set the date and time for the delivery. Our boats are made in Latta SC, and if you can pick up your order at the factory, you'd save the shipping cost.
PAYMENT
We accept all types of checks, including personal checks.
Please make your check payable to Wavewalk Inc and mail it to our address –
Wavewalk Inc
115 Terrace Avenue
Riverside, RI 02915
Regular mail is fine, and there is no need to send us your check by special delivery.

We also accept direct payment (ACH). If this is the method of payment that you prefer, please let us know, and we'll email you the info that you'd need to perform this transaction.
For more details on our boats and shipping rates –
S4 Microskiff Full Info and Shipping Rates »