Kit For Kayaking and Canoeing
Price: $110
We ship every S4 with a paddling kit, standard, for no extra charge.
Kayak Paddle or Canoe Paddle?
Canoe paddles take less legroom onboard than longer kayak paddles do, so it's more convenient to carry canoe paddles onboard when you drive your W700 or S4, and you need a paddle just for launching or beaching.
On the other hand, for most people, kayak paddles are more user-friendly for paddling longer distances.
Problem Solved: Two Configurations For One Paddle
We offer a 2-piece, 9 ft extra-long paddle for paddling in the kayaking style. This lightweight aluminum shaft kayak paddle can be instantly converted into 2 canoe paddles:  Just disconnect its two halves from each other by pushing the button clip in the middle of the paddle, attach a T-grip handle to each half, and start canoeing in tandem.

Our paddling kit includes the above 9 ft 2-pieces XL kayak paddle and the below 2 T-grip handles –


2 halves of the XL kayak paddle plus 2 T-grip handles = 2 canoe paddles: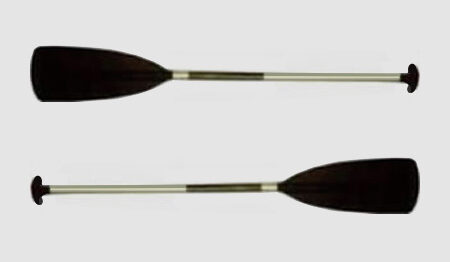 Made in USA
Tech Specs
Paddle Shaft: Aluminum
Shaft Diameter: 1.125″
Blades: Impact resistant and UV resistant plastic material
Blade Size: L = 20″, W = 8″
Rubber Drip Rings: Yes
T-Grip: Plastic