By Pyt Rotary
Ontario, Canada

I own a Wavewalk S4 kayak motorized with an electric Minnkota of 80Lb thrust 24V, and a Yamaha 2.5Hp 4 stroke gas outboard. I fish and have fun with it almost every week.
I use it mostly for fishing and trolling in big lakes – lake Ontario, lake Erie, Georgian Bay and lake Simcoe.
Sometimes I fish with it in rivers and swamps.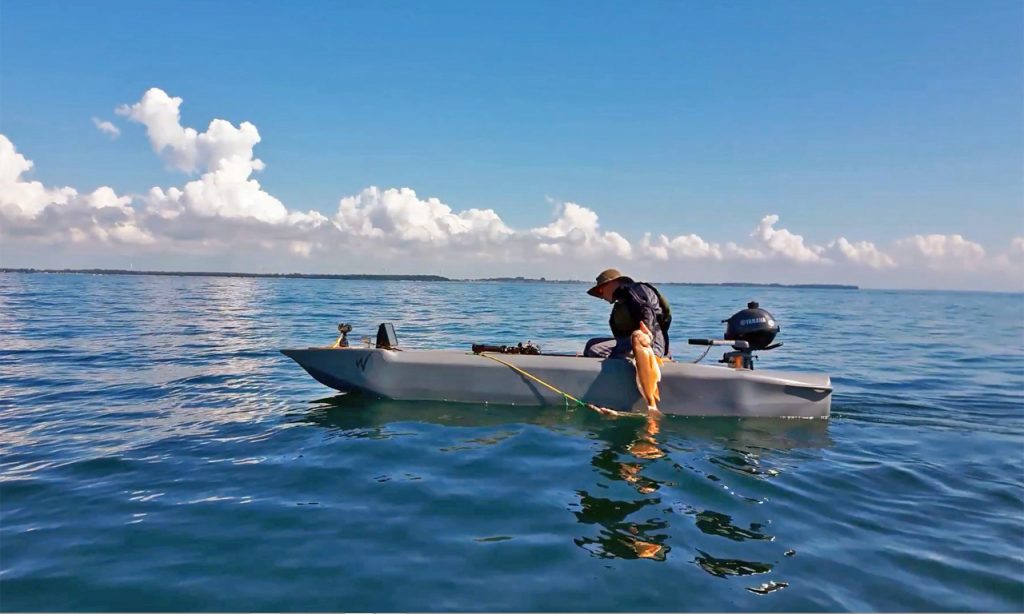 This year for me was the best fishing year in my entire life, and that is because I own the S4 coupled with the gas motor. I had a Honda 2.3Hp, nice and light but too weak and not great for trolling on big lakes because it has a centrifugal clutch. I sold that and I got a Honda 4Hp 4 stroke, great motor but too heavy (30+kg). Sold that one and got a Yamaha 2.5Hp / 4 stroke, great motor, has Drive and Neutral but some time I need more power. Next motor I will buy will be a Tohatsu 3.5Hp. This one should be the best option for me:
1) weight under 20kg
2) best trolling speed in idle mode on drive
3) give me more torque when I need to go 10 miles inside Ontario/Erie lake.

2018 was the year when I got my best fishing experience, lots of fish caught (salmon, walleye, pike, trout). I do fish mostly by trolling andjigging. I never got so many fish, and that is because now I can access and cover a lot more water fast and cheap.

Next year I will buy the new Tohatsu and I will experiment with a Scotty downrigger. The downrigger will even put more fish in my boat than ever.

Due the nature of S4 I can launch whenever I want.
Really funny to see boats in the morning in queue waiting in line and me just bypassing going on sandy beach and launching. Also I have numerous places where I have access but no boats can go.
I do car port my S4 in a Dodge Caravan 2004 (the short version) by sliding the S4 inside my mini-van.

Tight lines and have a great fishing year in 2019.
All the best from Canada, Ontario.