A boat is deemed seaworthy if it is built and outfitted for a voyage at sea. By extension, when small boats are concerned, going on big lakes requires a seaworthy boat as well. A portable boat can be easily carried or moved, especially because of being lighter and smaller than other boats. Skiffs are flat bottomed boats designed for fishing flat water. Micro skiffs (microskiff) are smaller skiffs designed to do the same. These boats draft less than other boats that are made for fishing in deep water, and offshore. When used on flat water, skiffs and micro skiffs are relatively stable for their size, but they don't excel when seaworthiness is concerned. Some skiffs and microskiffs can handle waves better than others, due to a somehow different form of their hulls called Shallow V Hull that feels less stable on flat water. But going with these boats through choppy water, let alone rough water, is uncomfortable at best, as typically, the passengers feel unstable, and get tossed around. This is to say that as a general rule, boats that are made primarily for going on flat water are not among the most seaworthy.

Portable microskiff

Portable microskiffs are smaller than the typical microskiff, and as such they are less seaworthy. In order for a boat to be portable, it must be small and lightweight enough to be car-topped, and carried to the beach either by dragging it on the ground, or with a lightweight wheel cart. Typically, microskiffs that offer these advantages are not full fledged boats – They are boards with little or no free board, whose decks get washed by water and spray even when they go in mild chop. The only full-fledged portable microskiffs are the Wavewalk 700 and Wavewalk S4 that offer sufficient free board to offer reasonable protection to their passengers and gear, as well as sufficient stability and balancing capabilities when going in rough water.
Microskiffs that are portable and seaworthy

Despite their similar catamaran design that's based on Wavewalk's patented invention, the W700 and S4 are two different micro skiffs in terms of performance and capabilities.
The Wavewalk 700

The W700 can be described as a hybrid kayak-microskiff. It is extremely stable even in comparison to the biggest ordinary fishing kayaks, and it paddles very well with a crew of one or two, and up to three medium size paddlers. It can be driven with an outboard motor of up to 4.5 HP, at speeds over 10 mph. The W700 offers stand up paddling and fishing to up to two anglers, and its on board storage capacity is greater than the storage offered by any sit-in or SOT kayak. The W700's light weight (80 lbs) makes it easy to carry over long distances and rough terrain, including rocks and deep sand. The W700 also works perfectly well as a canoe, namely with single-blade paddles.
The Wavewalk S4

The S4 is more stable and more seaworthy than the W700, its load capacity (payload) is greater, and it has more room for passengers and gear. On top of this, the S4 can be driven with much bigger and more powerful motors, at sustained speeds of 17 mph (with a 10 HP outboard). The S4 weighs 20 lbs more than the W700, and it is likely to be outfitted with a more powerful, and therefore heavier motor, it is less easy to carry over rough terrain and deep sand. This said, the S4 is a car-top boat that one guy can handle without a problem. The S4 also works well in a paddling mode, with both kayak and canoe paddles.
And if you liked the feeling of driving an S4 in the open sea, in waves, here is a video that will show you what it feels like to drive this unique microskiff at high speed in tight and winding mangrove tunnels –
The performance of the S4 is in rough water is most impressive, even compared to inflatable dinghies that are designed primarily for going in rough seas. The S4 easily handles waves of up to 4 ft, while its driver and passengers ride its saddle in comfort and confidence stemming from the fact that they can balance themselves easily and intuitively, in the most effective way, being supported by their own legs and a large size hull on each side. The saddle in Wavewalk's micro skiffs is of similar size and dimensions as the saddle featuring in large-size models of personal watercraft (PWC), often referred to as jet-skis. Similarly to jet skis, the driver of an S4 can drive it standing up, even in choppy water.
The video below shows a Wavewalk S4 user downloading it from his SUV, dragging it over a rocky beach, and launching it in a "rock garden" –
Similarly to micro skiffs skiffs, the S4 features a front deck that an angler can stand on and cast, although probably not in the presence of waves.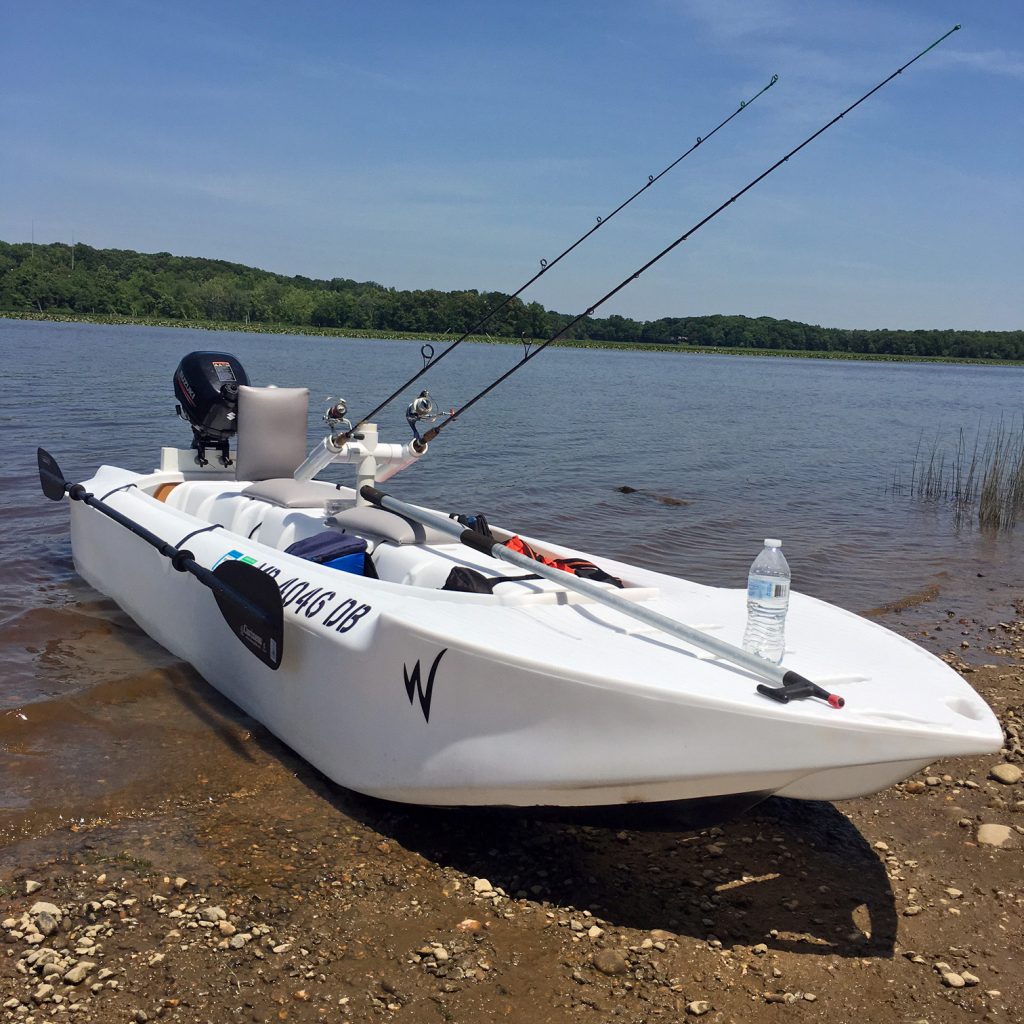 The S4 can be outfitted with accessories such as a wheel cart that can be carried on board, and a large-size, detachable spray shield that protects the front passenger from being sprayed when the boat goes in waves at high speed. The S4 micro skiff is more stable than other skiffs its size, and unlike typical skiffs, it is not made from fiberglass but from Polyethylene, which is a resilient and more durable material. This makes it possible to move the S4 over rugged terrain, rocks and various obstacles.
Even more versatility – Food for thought

Skiffs and micro skiffs are designed for flats fishing. The problem with these fisheries is twofold – The first challenge is that in low tide, the water can be too shallow even for a micro skiff to move in it, and the propeller is the lowest point in the boat that determines its actual draft. The second problem is vegetation that can get entangled in the outboard's propeller. In this context, on top of its being a seaworthy boat, the S4 works well with a surface drive, also known as a mud motor. These motors work at sea, and they outperform regular outboards in shallow water, muddy water, and water where much vegetation grows. For some anglers, the S4 offers top performance and extreme versatility as a seaworthy microskiff, as well as an all-terrain and all-water boat.