Updated 01/27/2023
Portable Boat Definition
A Portable Boat is a boat that's portable, namely a boat in the full sense, and not a board or a kayak. The owner of a portable boat don't need a trailer to transport and launch it, since it can be easily car topped and carried, and launched without a boat ramp. 
A portable boat is a small boat that's lightweight enough for a person to upload onto their vehicle's roof rack in order to transport it this way. A portable boat must also be lightweight enough for one person to carry by hand from their vehicle to the water, and back. In other words, a portable boat is a car-top boat, and vice versa.
This is to say that portable boats do not require transportation by trailer.
But not all trailer-free boats offer the same degree of portability, and some small dinghies, Jon boats and motorized boards may be hauled onto a pickup truck bed, but still be too heavy and bulky for either car topping or easy carrying. Therefore, these small boat are not true portable boats.
Introduction
Portable boats have been around for decades, and over time, they have gained many fans, as well as opponents.
This article is an attempt to shed more light on this subject, clarify the basic things that are worth knowing, determine factors that should be given consideration when deciding whether to buy a portable boat or not, and which type, as well as offer information on the latest developments in this field.
Special attention is given to Wavewalk's S4, a new type of portable boat based on the company's patented invention. The S4 is classified as a multihull boat, and it's good news for those who are looking to get a high performance car-top boat without compromising on stability, comfort, dryness, and onboard storage.
The following playlist includes YouTube videos showing the S4 used in different applications and environments, and by different people. One of the videos shows a user uploading an S4 on top of his SUV in under thirty seconds –
Make sure to set the YouTube player to watching the videos on this playlist in 1080p HD Hi-Definition.
Use the > button to play the next movie, and the < button to return to the previous one.

Which cartop boat is the most portable?
Portability refers to the ease of carrying from your vehicle to the beach, or launching spot, and back, and it also refers to transportation, namely how easy it is to get your boat from your home to the water, and back.
What factors contribute to a boat's portability?
A boat's portability is affected mainly by its weight. The S4 weighs a 100 lbs without a motor, and this makes it the lightest boat relatively to its load capacity of over 600 lbs. The S4 also features a fully rigid twin-hull that requires no time-consuming inflation or assembly. Therefore, it is fair to say that the S4 is the world's most portable boat.
The following video shows how easy it is for one person to cartop the S4:
The following video demonstrates how easy it is to get the S4 from the vehicle on top of which it is transported to the beach where it's launched, and how easy it is to carry it over rugged terrain, and launch it anywhere you want:
Portability is key
Portability can save you both time and money.
In dollar terms, portability saves you the money that you would have spent on a boat trailer. It's always good to have a few extra dollars to spend on the boat itself, or on fishing gear.
However, what's more important is the fact that a portable boat saves you time that you can spent having fun on the water, instead of on the road, driving to or from a boat ramp, as boat ramps are the only places that allow you to launch a boat from a trailer. By the same token, a portable boat saves you waiting time at the boat ramp, waiting for other boat owners to launch their boats, or take them out before you could do it with your own boat. Owning a car-top boat guarantees that you'd never arrive to a boat ramp just to find that the facility had run out of parking space for your vehicle and your boat trailer.
Simply put, portability frees you to launch anywhere you want, and in the case of the S4, even in rocky beaches a.k.a. "Rock Gardens", as seen in one of the videos featuring in the above playlist.

S4 in Montana alpine lake fishing trip »
This boat review was written by an S4 owner from Montana, who together with friends, transported his S4 portable boat across a rugged mountainous terrain, in order to reach a remote lake where they wanted to fish.
Are kayaks portable boats?
Kayaks are not considered to be portable boats despite their being small and typically lightweight enough to be car topped and carried by hand. This is because kayaks don't lend themselves to effective motorizing, and the same is true for canoes, with the exception for square-stern canoes designed to accommodate a small outboard motor, and be driven on flat water.
Kayaks with built-in electric trolling motors are not portable boats either, since their motors are extremely weak in comparison to the smallest portable outboard gas engines that power boats.
Only a vessel that is both a boat in the full sense of functionality and comfort expected from a motorboat, as well fully portable, may qualify as a portable boat.
Are motorized boards portable boats?
Motorized boards are vessels that offer neither minimal free board nor sufficient load capacity to count as boats. Ironically, some of them are too heavy to be car-topped, which is yet another reason why they may not count as portable boats.
Rigid Hull
Portable boats include dinghies, Jon boats and square-stern canoes that are small and lightweight enough for car topping. Typically, such boats are made from aluminum (welded or riveted), fiberglass, or plastic resin such as Polyethylene (PE).
A rigid hull offers the advantage of being ready to go on water without spending time and energy on inflating and assembly. As soon as they are out of the water, rigid-hull portable boats (RIB) cannot be car-topped without deflating or disassembling them.
One of the drawbacks of a car-topped boat compared to a boat transported on a trailer is that with a car-top boat, you have to mount the outboard motor on the boat before you launch, and dismount it at the end of the trip, so you could transport it inside your vehicle. This said, an experienced boat owner can mount and dismount a small, namely portable outboard motor within a couple of minutes.
Folding Hull
A folding hull is made from rigid panels attached by flexible sections. Folding a boat makes it take less space, and being less bulky can be an advantage for transportation.
Upon arrival to the launching spot, a folding hull needs to be unfolded, and the boat requires assembly for its seats, transom, etc., which can take up to twenty minutes. Disassembling the boat and folding it back can take a similar time, and altogether, whatever time is gained as a result of not having to launch at a boat ramp thanks to the lack of a trailer, might be wasted on tedious assembly and disassembly work.
Inflatable Boat and Inflatable Pontoons
Inflatable dinghies are made from soft parts, and rigid inflatable boats (RIB) have rigid parts too, which require both assembly and inflation before launching, and disassembly as well as deflation and folding at the end of the trip. These extra activities can take considerable time, even for an experienced user with a good electric pump.
Generally speaking, anglers typically prefer not to fish out of inflatable boats because of the risk of a fishing hook or a knife perforating the hull.
Folding Catamaran
Some small catamarans may be transported on top of a vehicle. These boats feature closed rigid hulls namely pontoons, and their decks are made from sections that can be assembled for boating, and disassembled to allow transportation on a vehicle. Typically, these are sailing catamarans, and they are rarely used for fishing.
Stability, Comfort, and Seaworthiness problems in portable boats
The need to compact the boat so it could be car-topped leads to some portable boat designs lacking in seaworthiness, stability, and comfort.
Canoes feature either round bottomed or flat bottomed hulls. The first is extremely tippy and prone to rolling, especially for a crew of more than one, and the latter is stabler on flat water, but insufficiently stable in choppy water, and in the presence of powerboats' wakes.
Jon boats, aluminum dinghies and micro skiffs that feature a flat bottom hull are moderately stable on flat water, especially if they are very wide, but they lack the stability required for driving and fishing in moving water.
Jon boats, dinghies and skiffs with a shallow V hull are more stable in moving water, but less stable on flat water.
Inflatable dinghies are very wide, and they are designed to allow driving in moving water, but these boats are not comfortable.
Small, compact boats are not the most comfortable, with the exception of the S4, which features a large-size saddle resembling the saddle seats found in bigger personal watercraft (PWC) sometimes called jet-skis. The S4's saddle combined its twin-hull design delivers the highest performance in terms of balancing, namely the users' ability to react instantly, intuitively and effortlessly to changes, as well as actively balance the boat. The S4's stability combined with the effective balancing capabilities it offers to its users contribute to its exceptional seaworthiness.
Which portable boat is the most stable?
The Wavewalk S4 is the world's most stable in its category of portable boats that require neither inflation nor assembly. With its load capacity of over 600 lbs and its saddle seat, this patented boat can carry up to three adult passengers on board, and they may all stand up at the same time  –

Which portable boat is the most seaworthy?
This question is more difficult to answer, since many inflatable and rigid-inflatable dinghies are very wide and designed to go in rough water. However, for a rigid hull portable boat, the Wavewalk S4 is the most seaworthy, since it can go in the ocean in waves up to 5 ft, and its driver can drive it in waves while they stand.
What is the most comfortable portable boat?
Portable boats usually come with simple bench-like seats, or basic swivel seats. Inflatable dinghies offer the driver and sometimes the passengers to sit on its inflatable chambers, or pontoons. Such seating accommodations are not ergonomically designed, which is why they are rather uncomfortable. On top of this, such crude seats do not provide boaters with effective means to o balance themselves, and this balancing deficiency becomes a severe comfort problem in rough water, as well as on longer trips.
The Wavewalk S4 is the only portable boat that features an ergonomically designed PWC saddle-seat. These seats prevent back pain and they offer their users means for quick and efficient reaction to change, as well as easy, natural, intuitive, and highly effective balancing, including whilr going in rough water. S4 driver and passengers can face forward while they ride (straddle) the saddle with a foot in each hull, and they can also face sideways while sitting side-saddle with both feet in one hull. This works not just for small size people as well as for big and heavy guys. The above video playlist includes a movie showing an angler who weighs 330 lbs enjoying driving an S4 and fishing from it while seated side-saddle.
Which portable boat is the most versatile?
The Wavewalk S4 is hands down the most versatile portable boat, due to multiple reasons. These include the fact that the S4 works perfectly as a paddle craft both in a canoeing and kayaking mode. This excellent performance in a human powered mode is unique among motorboats, and it is important not just as an alternative for motorizing in case of emergency, such as engine problems, getting stranded at low tide, etc., but also for going in extremely shallow water (skinny water) where even small and lightweight boats draft too much. This is to say that the S4 is unbeatable as far as mobility is concerned.
The S4 also works both in a solo and tandem mode with up to three adult passengers, and it features a frontal casting deck, as skiffs do.
The S4's seaworthiness is so good that it can serve as a fun boat for playing in waves. The S4 can also be easily towed by a bigger boat or hauled on board, and together with its generous load capacity, these attributes turn it into a most effective boat tender for yachts and big boats.
Image gallery
The following images offer a quick, condensed glimpse into various aspects of the S4, both as a car-top motorboat and a paddle craft, for leisure and fishing. For a better insight on the S4's capabilities watch movies in the above playlist.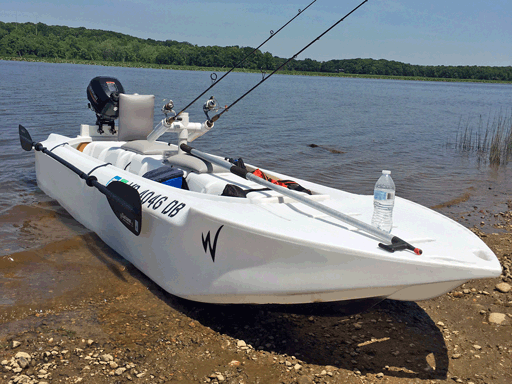 Recommended reading: Super Stability – What makes small boats and kayaks more stable »