The Wavewalk S4 – the smallest and greatest skiff
The 13 ft long S4, which weighs just 100 lbs, is smaller and much lighter than any skiff, microskiff, and board skiff, and its unrivaled stability and seaworthiness make it capable of carrying a 600 lbs payload. It is the only skiff that one person can car top without help from another person.
Technically speaking, the S4 is a multihull (catamaran) boat.
The S4 can carry up to three adult fishermen on board, which is comparable to the crew size of good size skiffs, and it enables these anglers to fish at the same time and standing up, which is something that only full fledged medium sized and bigger skiffs may offer.
The S4 is a much seaworthy skiff that can be driven through ocean waves and other choppy waters without problems, both in a solo mode and with a second passenger on board. The patented combination of its twin-hull (catamaran) and saddle seat is extremely stable as well as easy for the users to balance, even more than a personal watercraft (PWC).
In fact, driving an S4 in the ocean and in choppy water is pure fun.
The S4 offers plenty of free board, which is good news for passengers who are looking to stay dry, and it is the only skiff that can serve as a tender for a big boat or a yacht.
The S4 offers its passengers to use the entire internal space of its twin hulls for on board storage, and this makes its storage capacity rival with full fledged and good size skiffs.
Like a full fledged skiff, the S4 can be easily outfitted with a front mounted electric trolling motor.
And unlike any other skiff, including the smallest board-type microskiffs, or kayak skiffs, the S4 works very well as a paddle craft, namely kayak or canoe, to a point that some owners use it as a fishing kayak, without even motorizing it.
The S4 can be powered by a portable outboard motor in the 3.5 HP to 6 HP range.
In sum, the S4 is a craft that's so advanced in performance and versatility that it deserves a class of its own.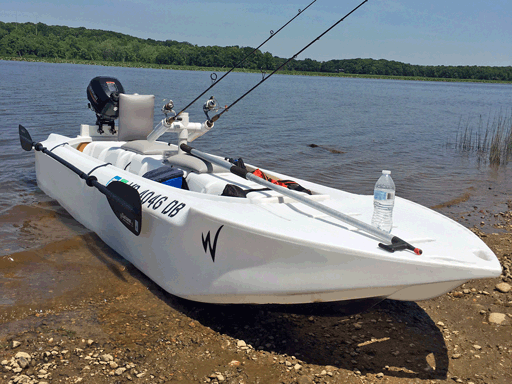 Skiff design, built, main advantages, and noteworthy shortcomings
Skiffs come in different sizes and configurations, and similarly to Jon boats, they are flat bottomed mono-hulls, a feature that reduces draft, which is advantageous for fishing in shallow water.
But this design feature also makes skiffs less seaworthy compared to other boats of similar size.
This is yet another example of specialization that enhances the product's performance in one application while diminishing its performance in others.
Skiffs' limited seaworthiness is the reason for their being unpopular as boats for offshore fishing, and opinions about their performance in bays and estuaries are mixed. The skiff design's limited seaworthiness is one of the reasons why owners of big boats and yachts don't use small skiffs dubbed microskiff as tenders.
Typically, skiffs' hulls are molded from fiberglass, mainly because this material is more durable in saltwater than aluminum, which is the most common building material in Jon boats. However, fiberglass doesn't perform well in terms of impact resistance, and it requires maintenance, while other polymer resins (plastics) such as Polyethylene don't.
Fiberglass is also heavier than Polyethylene, too heavy to make a small skiff that's lightweight enough to be transported on top of a vehicle's roof, namely a portable skiff.
Skiffs are propelled by one or more outboard motors mounted at their stern.
Typical skiff features
Depending on a skiff's size and level of outfitting, it may feature a center console, a casting platform at its front, and a tall structure at the stern, for a person to use for poling and/or for sighting fish for one or more anglers fishing from the deck.
Skiff are sometimes outfitted with an electric trolling motor, typically mounted at their bow.
The main advantages of a frontal casting platform are that it offers the angler a broader range of casting, be it with bait, lures, flies, or a fishing net, and it puts a bigger distance between them and other fishers working from the middle of the deck.
The main advantage of a center console is that it improves the driver's comfort and stability, relatively to driving from the stern, and it allows them to drive standing.
Poling is both exhausting and rather ineffective as a mode of propulsion, and therefore increasingly unpopular among anglers who fish the flats and other shallow water. This leaves the poling platform to serve mainly as a watchtower, and possibly as an ornament.
Electric trolling motors are quiet, and they can be controlled remotely, which is one of the reasons that more skiff owners use them these days.
Microskiff – a class of very small small skiffs
Microskiff is a term that refers to compact skiffs, namely of small size, and typically of reduced features as well. The smaller size saves money on gas and maintenance, but the need to transport microskiffs on a trailer still presents a challenge in terms of launching and beaching, as well as storage.
At the lowest end of microskiffs both in terms of size and price, is a group of large size boards, some of which feature backward pointing extensions that provide extra support for the outboard motor's weight, and some that don't. These boards usually offer enough stability and load capacity for just one user (I.E. "solo" skiff), and they hardly offer any free board, which pretty much guarantees that this user will get soaked, whether they like it or not.
As far as comfort is concerned, these large size boards marketed as microskiffs or "solo" skiffs seem to be designed with no concern for ergonomics whatsoever, to a point where watching a video featuring such a skiff might give the viewer an uneasy feeling.
In terms of portability and transportation, their small size allows for an unusually strong person to transport one on a pickup truck bed, but car topping such a vessel is beyond reach for anyone who's not a professional weight lifter.
Most of these board type skiffs are molded from fiberglass or other cold-molded resins, which reduces their impact resistance, durability, and therefore reliability.
The board skiff that's made from Polyethylene weighs 150 lbs without the motor, which is still too heavy to rival the portability of most fishing kayaks and canoes, and let's not forget that square-stern canoes can be outfitted with small outboard motors…
Despite their small size, including a beam (width) that's narrower than the beam of conventional skiffs, board skiffs do not paddle well, a factor that reduces their appeal to anglers who fish skinny water and water where aquatic vegetation abounds.