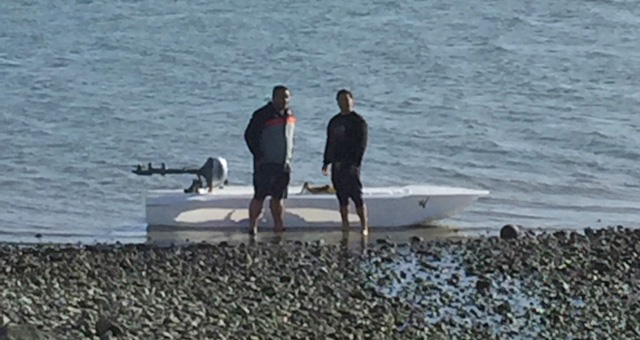 By Magnus Chung
San Francisco Bay Area, California
I finally got a chance to take the S4 out and test it on the water. It's working beautifully with the Honda 2.3 engine. We actually have 3 people seat in it comfortably and both paddling and using the motor works quite well.
We launched the S4 at a rocky beach, and dragging the S4 over the sharp rocks caused some scratches on the bottom of the S4. This is a minor issue, and I've decided not to worry about it 🙂
Overall, I am very satisfied with the S4. Great Kayak and I can't wait to show it off to my friends on the next fishing trip!
I was too busy with the S4. There aren't any pics while the S4 is cruising in the water since all three of us were in the S4 and didn't have anyone to take pictures from the shore.
Here are some of the pics my friend took on the beach –